Shared media, earned media, SEO, branding, social media, the list goes on and on. For business owners, it can be really challenging to keep up with all the possibilities, let alone find the right places to be seen and measure ROI. 
Hiring a marketing agency can take all of these questions off your plate and allow experts to manage them for you. That way you can spend your time doing what you love, which is why you started your business in the first place.
Hiring a marketing agency to act as your marketing team, or to help with a specific project or campaign, will greatly increase your effectiveness. Let's face it, you can't do it all. None of us can. You'll get a better result if you bring in experts to do the heavy lifting. 
Different Type of Agencies
So you need to hire an agency, but where to begin? There are so many types of agencies that specialize in different things, from digital to PR. If you have a very specific need, choosing an agency that specializes in one area of marketing could be a good fit for you. Let's break down what some of the types of agencies are.
Creative Agency: A creative agency works largely in aesthetics, making sure your business shows up beautifully in traditional channels, like print, and PR.
Digital Agency: A digital agency focuses on the technology side of the house, specializing in things like SEO, social media, email marketing and PPC.
Brand Agency: A brand agency specializes in, well, brands. They create strategies and assets that support telling a brand story.
Web Agency: A web agency specializes in things like creating websites, SEO and social media.
PR Agency: A public relations agency is primarily focused on getting businesses attention through traditional media channels.
Full Service Marketing Agency
M Agency is a full-service marketing agency. That means that we do all of the above, and more. We have experts in SEO, UI/UX, coding, content, social media, PPC, graphic design, branding, strategy, business development and video. 
We take this approach because your business needs to show up in a lot of places, and do it well. That's why we believe in a well rounded approach to your marketing strategy. We help you identify your tribe, find them, and get you in front of them, no matter where they are. 
What Makes M Agency Different
We start with finding your M. Your why, what we call your M, is the foundation of your business. Why did you start your business? What kind of difference does it make in the world? What is your passion? What problem does your business solve? 
These are all questions we start with because we create MEANINGFUL marketing. Let's face it, anyone with a keyboard can write a blog post. There are a million and one tools that you can use to create a logo yourself. You can shoot a video from your cell phone and piece it together with free online tools. But without grounding it all in your WHY, it's and, more importantly, it lacks the foundation of strategy.
M Agency builds your foundation, then creates meaningful marketing by combining strategy and creativity to get your business in front of your tribe, on brand, on message and on budget.
Our Services include:
Brand: We start with your M and create a brand strategy for your business. We do brand identity, guidelines, messaging and environmental design to carry your brand all the way through to your physical space.
User Experience: Did you know that 70 percent of online shoppers say they will abandon a shopping cart because of poor user experience? Or that 94 percent say they judge a website based upon responsive design? How about 47 percent of users expect a page to load in two seconds or less? User experience is the key to a website that drives conversions. That's why we focus on UI/UX before we even start the design process, because you can have the most beautiful website in the world, but if it takes 10 seconds to load, or it doesn't seamlessly transition between devices, you might as well still be using Geocities.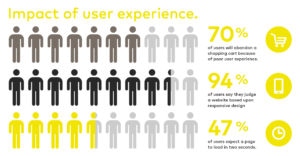 Growth Marketing: There are so many ways to market your product or service these days. That's why we focus on growth marketing, creating marketing strategy, developing campaigns, and implementing everything from email marketing, pay-per-click advertising, SEO, media buying and management and more.
Technology: We specialize in custom WordPress websites, hosting and management. There are a lot of tools available that anyone can use to build a website. This makes it easy to quickly stand up a web presence. It also has some major drawbacks. For instance, you don't own your website when it's on one of these platforms. Say you built your website with SquareSpace, and next month they went out of business. Your website would disappear with the company and you'd have to start over.
We build you a custom, functional, beautiful website using front-end and back-end development, eCommerce, API integration, hosting and management.
Creative Production: Our team of skilled creatives brings your brand forward in a variety of media, from print design, to writing, to event management and production. We create stunning videos for training, brand storytelling and just for fun! We do all types of photography, from environmental to portrait. Our writers tell your brand story with the perfect tone and content for your tribe. Whatever your creative needs are, M Agency has you covered.
Why M is the Agency for You
At M Agency, we do things differently. Born in Tacoma, we love our city and we believe that small businesses and nonprofits are the backbone of our community. We're woman owned and built to be nimble. We employ subject matter experts for every aspect of marketing because we believe that no one person can, or should, do it all.
If you're ready to see how M can transform your business with meaningful marketing, contact us today!