Completed
Brand Strategy
Visual Identity
Graphic Design
Copywriting
Videography
Website Design
Website Development
Marketing Campaign
The Project
M Agency started working with Pierce County in September of 2020. They came to us because flu season was fast approaching and it was time for people to start thinking about flu shots.
People were very focused on COVID-19, which was looming over the country. With people wearing masks, staying home, socially distancing, it was easy to think that the flu wasn't a threat. With a global pandemic disrupting everything in our lives, the question became – is anyone even thinking about the flu anymore?
Keeping the people of Pierce County as protected as possible was of the utmost importance and we needed a campaign that was memorable and helped people remember that the flu shot was still critical to protecting our community.
The Goal
Increase public awareness around the necessity of the flu vaccination, and increase the number of flu vaccinations in Pierce County.
The Stats

"M Agency was an excellent partner in our flu vaccine awareness campaign. We had a short timeline to get the campaign started and they rose to the occasion with professionalism, patience and a dash of humor. They did the research so we knew the campaign was addressing our community and they kept us updated as the campaign progressed from rapid stand up to closing it out."
– Mike, Pierce County Department of Emergency Management,
Public Information Specialist
Strategy
With little time to waste we started mapping out the various audiences we were trying to reach. We created personas for target audiences, including what their objections and challenges would be and how they could be overcome.
We knew that in previous years, Pierce County residents didn't always hit target numbers. In 2019 the Health Department reported approximately 51 percent of residents received a vaccination, but for herd immunity, we'd want to aim for 70 percent or more.
We also knew that across the country most of the younger audiences (6mo – 17) and older audiences (65+) hit their target percentages, but those that fell between are the least likely to get vaccinated.
We had two challenges: Maintaining the 51%, and also increasing the number of people who got the vaccine.
We focused on connecting with women ages 30-50 who are most likely to make medical decisions for children, spouses and parents.
BRANDING
We wanted to create something fun and memorable to encourage people to get a flu shot, without showing the classic needles and bandaids.
This was a pretty dark time in our country, so any message of hope or positivity we could put into the world was exciting to us. We wanted to create something that people of all ages could engage with.
That's how we came up with Spread Love, Not the Flu!
We came up with this idea that there are things that are great to spread–love, joy, ideas, peanut butter–but no one should spread the flu.
Our designers took this idea and created the corresponding characters: Lolo (love), Glee (joy), Ding (idea), Jiffrey (peanut butter) and Grippe (the flu). The bright color palette and assisting graphic elements brought the characters to life.
Applications
We wanted to create a campaign that could work anywhere, anytime and in multiple languages. We created assets for many channels, so we could be sure to connect with the people of Pierce County where they were consuming media.
Applications included:
Television commercial
Streaming Video ads
Streaming Radio ads
Environmental murals
Vehicle wraps
Billboards
Transit ads
Social ads
Paid ads
Social media posts
Community partnerships
Toolkits for medical practices with posters, stickers, activity pages for kids, social media posts and more
Website
Coloring contest at local grocery stores
Pierce County is a diverse place, and not everyone speaks English primarily, so we translated parts of the campaign into five languages:
Spanish
Korean
Vietnamese
Russian
Khmer
We placed ads in Korean language publications, translated social media and paid ads and the website into all five languages.
Digital
For all of these applications to work, we needed a website that helped people find the closest location for them to get a shot, and show them their best options for free shots, and those that accepted insurance.
Our dev team created a website that included all the free flu shot locations, and local pharmacies and providers who accepted insurance for flu shots. It was coded to show the user their closest free flu shot, and give them other options near them.
Then we had it translated into five languages: Spanish, Korean, Russian, Vietnamese and Khmer.
In the Wild
Within weeks of a chosen direction the campaign was live around the city.
The coloring contest was a hit, we received many submissions from children and adults alike.
We partnered with Safe Streets, a local community nonprofit, to help us spread the word. Among their efforts, they handed out stickers at their drive-thru trick-or-treat event, which was a big hit with participants.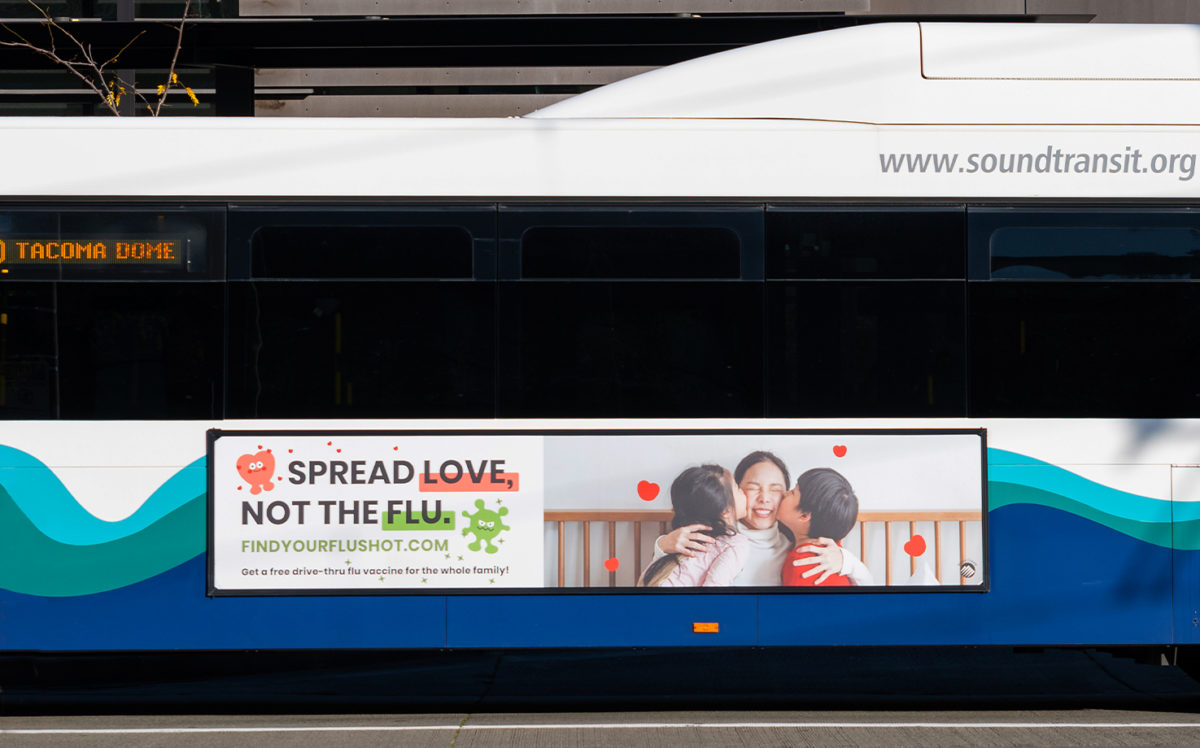 Video
The video, voiced by local musician Kristen Marlo, appeared as a TV commercial, social media post and on YouTube for paid and organic. The audio was also used as a radio spot on Pandora, in both English and Spanish.
Need help with a project?
Tell us all about it! We would love to help you get the results you want. Call us today!